This guy really does cut the… cheese. Oh that's tacky, oh well, let's go with it anyway. 
This guy really does cut the cheese!…
Romain Jimenez, 27, gave up free flights, good money and a comfy check-in desk with Air France to become a cheese connoisseur.
However, it wasn't always Romain's plan, in fact, it was far from it.
He first came to London to learn English and become a manager but ended up falling in love with London's beautiful building and fast paced atmosphere.
He should've realised that he wouldn't be leaving the moment he realised Stilton is his favourite cheese.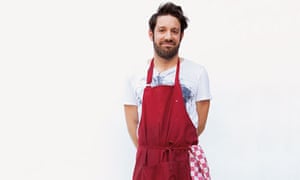 He decided to combine his new found home away from home with his first love, cheese, and London's busy high streets are the perfect sales floor.
He now spends his time slapping the highest quality cheese in between slices of toasted bread using techniques that make people's mouths open – as well as the shops cashier desk.
Androuet is the cheese shop that Romain now calls home, situated in Spitalfields. He also puts on his chef's hat and apron on his stall that moves between Whitecross Street and Camden Lock market – so next time you walk on past a stall labelled 'The Frenchie' just realise it's at your own loss.
Customers tell Romain that they are: "the best sandwich I've ever eaten in my life. That's a compliment worth changing your life for, and Romain admits that he has no regrets after quitting his job and uprooting his life.